January Powersheets Recap
I don't know where to start but all I can say is the powersheets goal planner has made a huge difference in my mindset. I did not want to pass over this year like I had in 2019 and the outlook is something wonderful.
I am a little later than I wanted to be writing this but everything in good timing right? We are already 13 days into February when I am writing this and there is a beautiful snowfall out my desk window…
It is funny how God uses the things that make your heart smile to tell you everything is going to be ok.
There were a few things that worried me about someone I love dearly but ultimately the thing that worried me was their decision. It was not the end of the world but I still think their choice could be better.
But the thing about life is that not everyone waits for the best opting in life. Sometimes they settle for good.
Sometimes you just have to take the hands of your heart who so desperately want to take the wheel of other people's lives and guide them down the better path.
Like one of my words for the year, sometimes you just have to let it be.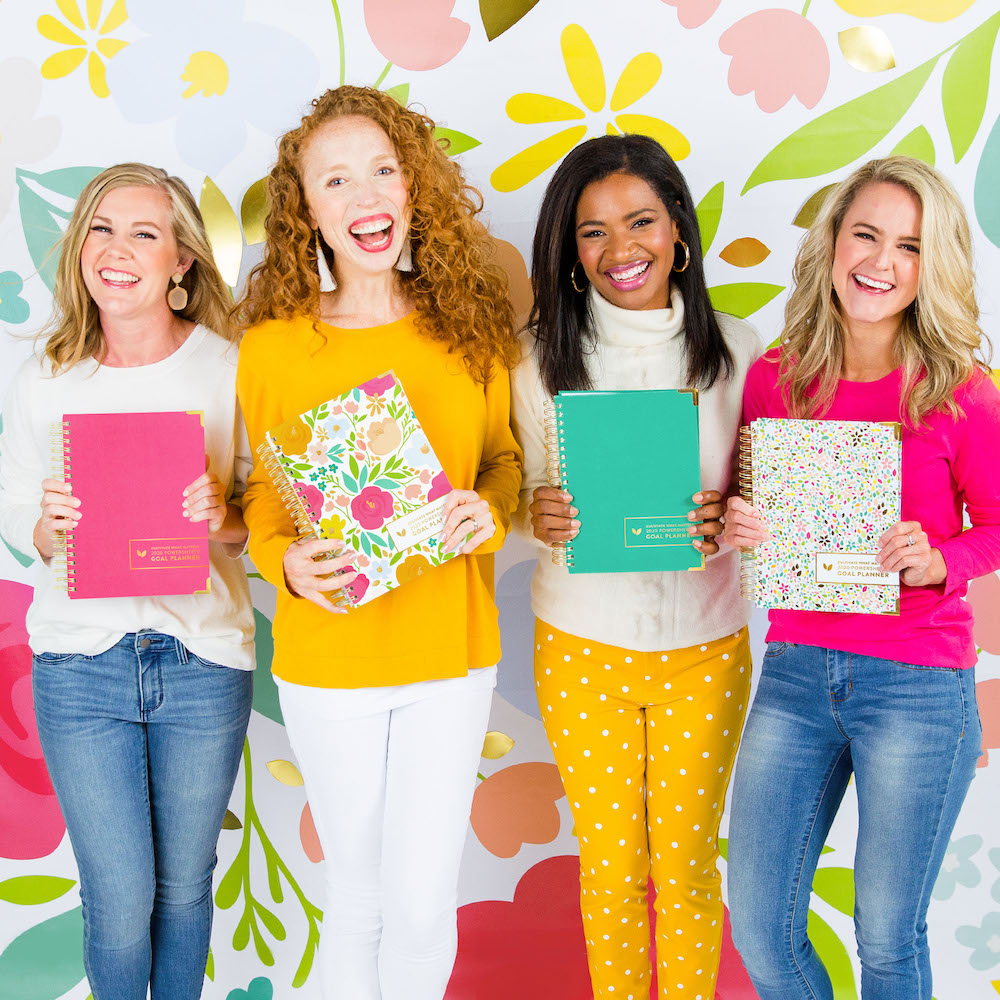 Do you choose a word of the year?
I never held much stock in choosing a word for the year because life can look extremely different from the beginning of the year by the time you reach the end. So choosing one word seemed counter-intuitive.
Rather than choosing one I might have gotten a little excited and chose 5. There were many different words in the running but here are my five words for 2020
Be
Bloom
Cherish
Fearless
Stillness
They all feed into my goal for the year which is to not let it pass by at the speed of light. To stop and feel everything around me during the day. To be still in my heart and mind.
To recognize the blessings around me.
My Goals For The Year Where Not All Actions
Many goals people set have to do with action. Like losing weight or walking every day.
While the powersheets give you 8 spaces for goals of the year. I only chose seven.
Create systems in my business so I can SEE the work is done.
I have a really hard time STOPING work. I could do it all the time and honestly be totally happy. BUT that does not give me the chance to open my eyes and see what is around me. To live a beautiful life.
Have more fun this year.
Enjoy every day.
While these two are probably self-explanatory I want to start putting the laptop down more and enjoying what is around me. Both my husband and I enjoy doing outside activities so trying to find fun things to do in the winter… Well, not so easy. But once the weather becomes more manageable I want to make it a habit of doing something fun more often together even if it is free.
This looks more like standing at the counter instead of sitting in my office chare the whole time while I am working. Just doing anything I can to not be sitting for many hours in the day.
While chasing page views is not the most substantial business middle there is some effect on your income when you have more page views. Other income streams open up when your audience is a certain number.
500 email list subscribers
Now, this might seem trivial to most bloggers but I often purge the list. If someone has not opened an email in a few months they often get deleted. So let's just say it can feel like an uphill battle when you are regularly pruning your email list.
If you are not sure what an email list is, check this post out.
Make enough money from the blog (not the rabbitry) to cover a part-time salary.
While I make a nice income from the rabbitry I want to make the blog do the same. As of January, the rabbitry is supporting the blogging expenses and helping me grow my education around the online space.
I truly believe there is always something you can do better and I never want to stay the same.
January action Items.
Progress over perfections 100% of the time and if we expect ourselves to be perfect at our goals all the time we are setting ourselves up for disappointment.
The three goals I chose to work in this month where:
Creating systems in my business that would enable me to SEE my work being done.
This goal supports my goal of having more fun in my days. I am still feeling my way around these waters and it is in progress. I am still flipflopping back and forth between Trello and ClickUp. Yep, I am still not in love with either of them yet…
Create one new opt-in to help grow my email list.
Update 6 old blog posts with new pins to put on Pinterest.
Schedule 4 no workdays throughout the year.
This was extremely hard for me to do as I was going through the days I felt anxiety and fear around taking 4 days over the course of the coming year off. But after thinking of the things I could do during that time I was more excited as I planned those days.
Weekly goals
This year is focusing on simplicity and finding ways to bring more joy into my life and less hustle.
Move More often
Light a candle at least 2 times in the week.
Lessons I am taking into February.
The biggest lessons learned is no matter how driven we are things will slow you down. You have to rest in the fact that you did your best and you will continue to strive for that goal. Reassess the progress you made and move forward with a tailored plan.
What are you cultivating this year? Share it with me in the comments.