If you are new to raising chicks, caring for those little fuzzballs can be quite the challenge.
Whether you have a small coop to fill, or you just love the fun of having those cute little fuzzy every spring no homestead is complete without chickens. They are one of the least expensive animals to acquire, easy to learn to take care of and are quite enjoyable.
One of my favorite sayings from a lady I have the pleasure of knowing through the online business world is " you cant find the answers if you don't know the questions." and that is such a true statement.
My hope is that this post will give you the answers to the questions you did not know where there.
This post may contain affiliate links. If you make a purchase I get a small percentage at no extra cost to you. These affiliates help this blog keep running to help others just like yourself. 
What you need
Pine bedding
Starter feed.
Waterer
Feeder
Thermometer ( I like this one because of the suction cup you can place it closer to the same level as the chicks to ensure accurate temperature reading)
 Heat lamp and bulb (250 watts)
Heat, Heat, Heat!!! That is the number one factor that will leave you successful or not so successful in your venture with chicks. It is helpful if you know how to read the chicks (yes I mean chick body language) to see if they are too cold or too hot.
What Temperature To Keep The chicks At
Week 1: 85 to 90 degrees
Week 2: 80 to 85 degrees
Week 3: 75 to 80 degrees
Week 4: 70 to 75 degrees
By this time the chicks should be fully feathered and be able to be outside during the summer temps. However, even if you are experiencing 80 to 90 degree days it is not recommended to let the chicks outside simply because of all the potential predators out there. So much can happen to them if not protected.
On the first day of arrival, you can add electrolytes to the water which are not very expensive. However, a few teaspoons of sugar added to slightly warm gallon waterer will do just as well.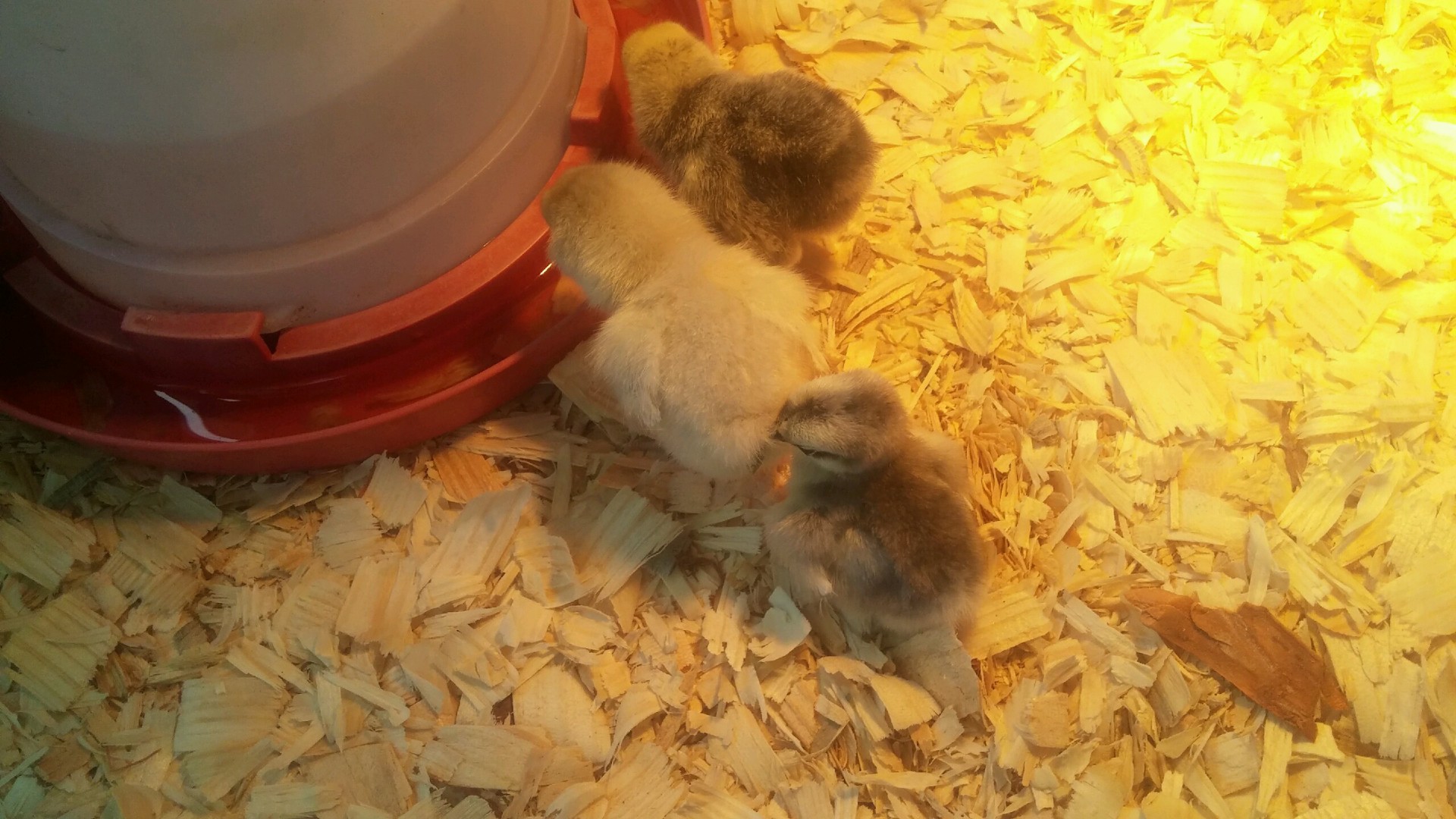 No matter how good you get, you will lose at least one or two birds if ordered from a hatchery. Being shipped and in the mail for the first 48 hours of your life would be hard on you too….
Most hatcheries will send a few extra birds to help make up for the losses.
Something to check into before you buy chicks if you live in town is to make sure you are able to have chickens. You might be surprised how many major cities allow for people to raise chicken most do not, however, allow for a rooster.
Was this helpful for you? Let me know in the comments how your journey through caring for chicks has gone.